Paul StapletonDIRECTOR
[pstapleton(at)keystroke-ltd.com]
Summary
Paul Stapleton has over thirty years' experience in scientific communications, from editing a pure science journal to managing large communications programmes. He has lived and worked in a number of countries and is an accomplished communicator, writer, public speaker and meeting mediator. He has wide experience as a writer and editor of all forms of scientific publication, and is skilled in developing communications strategies for programmes in developing and developed countries. His leadership and management skills have allowed him to successfully develop and implement digital and knowledge-management programmes in scientific and non-profit organizations across the world, from Italy to Peru. He has designed and mounted large-scale exhibitions for the UN International Year of the Potato and the International Year of Forests, and written several well-regarded guides to science communication.
Background
Paul Stapleton's first position out of university was working for CAB international, on their earliest use of computers in generating bibliographic index journals. From there he moved to Amsterdam, where he was employed as a desk editor for Elsevier Scientific Publishing on the primary biochemical journal
Biochimica et Biophysica Acta
. This is where he began to acquire a detailed knowledge of typesetting, typographic and production techniques. After the Netherlands he moved to Melbourne, Australia, where he was employed as a science editor by the Commonwealth Scientific and Industrial Research Organization (CSIRO), working on journals, technical reports, books, and as co-editor of
Australian Forest Research
. After another spell with Elsevier in Amsterdam, he was taken on by the Australian Centre for International Agricultural Research (ACIAR) to assist the Agency for Agricultural Research and Development, Indonesia (AARD) to create and produce the
Indonesian Journal of Crop Science
, (IJCS).
Moving into communications
After Indonesia, Paul moved to Italy, to the
International Plant Genetic Resources Institute (IPGRI, now Bioversity) in Rome, as
Head of the Editorial and Publications Unit. He
managed all aspects of the operation of the Unit, including liaison with senior management, budgeting, administration and staff supervision, in a group that was publishing up to 60 titles a year. After 13 years in Italy, he left IPGRI with a detailed knowledge of communications and a firm grasp of website development. After a year as a writing
consultant with the
Centre for International Forestry Research, Bogor, Indonesia, he moved to Samoa, to run the communications department for the South Pacific Regional Environment Programme (SPREP). He spent 2 years developing and implementing the communications strategy of SPREP. He became involved in management of the fundamental and long-term change of the organization, which is where he honed his skills in meeting mediation.
Strategic development
Moving on from the tropical paradise of Samoa, he became the
Head of the Communications and Public Awareness Department (CPAD) of the
International Potato Center (CIP), in Lima, Peru, operating as a member of the Senior Management team while developing and implementing a strategic program of communications and public awareness for the Centre. After 5 years there, including a fascinating time running CIP's participation in the UN's International Year of the Potato, he spent a year as a communications consultant, operating out of Darwin, Australia.
A new continent
From Australia, Paul
moved to Kenya, to become the Head of Communications at the World Agroforestry Centre in Nairobi, where he was responsible for all of the communications activities of the Centre, providing strategic direction and leadership on all aspects of electronic and conventional communication, and representing the Centre at international fora. During this period he worked hard to develop the web and social media aspects of ICRAF's communciations work, resulting in a website showing over 2 million downloads a year and a social media audience of over 20,000 followers.
Training expertise
Paul has extensive experience in organizing and running training workshops in science writing, project proposal development and communications activities, for scientists at all levels, from PhD students to senior directors. As a result, he has written or contributed to a series of book and training manuals, the last of which,
Scientific Writing for Agricultural Research Scientists. A Training Resource Manual
, was published by CTA in the Netherlands (download
pdf
)
Education, etc.
Paul earned a BSc (Hons - Univ. London) in Zoology & Botany, Plymouth Polytechnic, UK, has a grasp of Italian, Spanish, Indonesian and Dutch. He has also become an accomplished designer and graphic artist.
---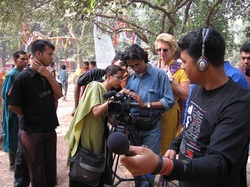 Jacqueline Frank
DIRECTOR
[jfrank(at)keystroke-ltd.com]

Summary
Jacqueline Frank has over thirty years' experience in international media and communications managing a diverse range of projects. She has won awards for television documentaries focused on the mind, for public service announcements on HIV, and worked on EMMY and Oscar winning dramatic movies and television series. Her highly successful public service campaign on HIV/AIDS for Ghanaian television prompted her to attain a mid-career Master's in International Affairs from Columbia University's School of International and Public Affairs (SIPA), graduating in 2005. Upon graduation Jacqueline began leading media development projects around the world, including Iraq, Serbia, Egypt, Sudan, and Kenya. Living in Kenya since 2011, Jacqueline has led a regional project for UNDP, training journalists in 20 African countries to cover climate change; led numerous training activities focused on science journalism for agricultural and livestock research institutes, and led a USAID-funded project on development journalism for the Kenyan vernacular radio sector. Jacqueline served as a Board Member for New York Women in Film for 4 years, and was a judge on international feature documentaries for the EMMYs.

Background
Jacqueline began her career in the movie industry, winning one of the highly competitive slots to become a Director's Guild Trainee (one out of every 200 applicants was selected). This trained her to be an Assistant Director on major motion pictures, resulting in a long and varied career in movies and television as an Assistant Director and Producer. She worked on award-winning television series such as Law and Order for NBC, and movies including Sophie's Choice, Moscow on the Hudson, Rollover, Brewster's Millions and Endless Love.

After many years in the drama industry, Jacqueline decided she wanted more content and adventure in her work, which drove her in a 'backward commute' to the documentary world. She worked on acclaimed documentaries such as The Last Wild River Ride (TBS): a documentary on river rafting in Ethiopia; In the Blood: a feature documentary on big-game hunting in East Africa; the award winning travel series Globetrekker and Lonely Planet TV; Buddha from Brooklyn: a feature documentary on Buddhist pilgrimages filmed in India & Nepal; On Wings of Fire: a feature documentary about Zoroastrianism, filmed in India; Choice Thoughts: a documentary on Margaret Sanger; The Mind (PBS): a one-hour documentary on Thinking; 3-2-1 Contact (PBS): the Children's Television Workshop science series; Panorama

Other special projects included working on the Great Performances 20th Anniversary Special starring Mikhail Baryshnikov & Twyla Tharp; producing a 20-minute 3-D IMAX film Concierto por la Terra on the worldwide degradation of the environment for the pavilion of the environment at the World's Fair in Seville, Spain. The project was filmed in Morocco, Tanzania, Mexico, U.S., Czech Republic, Germany, Mexico, U.S. and Canada. Jacqueline also produced a variety of live television programs for Japanese TV (NHK): Victor/Victoria (Broadway Play); Superbowl XXX (Sports event);

Jacqueline also worked on several music projects: producing the 25 music videos for David Bowie's Sound & Vision tour, Gipsy Kings Live at Wolftrap; and Live at Birdland.

Post-graduate school
After graduating from SIPA in 2005, Jacqueline was awarded a prestigious Knight Journalism Fellowship by the International Center for Journalists, taking her to Bangladesh for six months, training over 200 Bangladeshi participants in broadcast journalism. Jacqueline then went to Darfur on two different projects, one for CARE-Sudan, the other producing the documentary Darfur Now. From there Jacqueline led a project in Egypt for Search for Common Ground, supervising a 30-hour television series focused on conflict resolution, embedded into a drama series. Jacqueline was then hired by IREX to assist in closing their media development project in Serbia, and they then asked her to be the Country Director for their challenging $12 million media project in Iraq, heading a national staff of 30 in four field offices, funded by the US Department of State.

After Iraq Jacqueline came to Nairobi in 2011 to work as Regional Coordinator for UNDP, training journalists in 20 African countries to cover climate change.

Education
Frank earned a B.A. in Philosophy from SUNY Binghamton (Harpur College), and a Master's in International Affairs many years later from Columbia University's SIPA. She speaks French and German, and holds dual citizenship with Germany.


---